Learn more about Judy Heumann, the Disability Rights Movement, and much more through the resources below.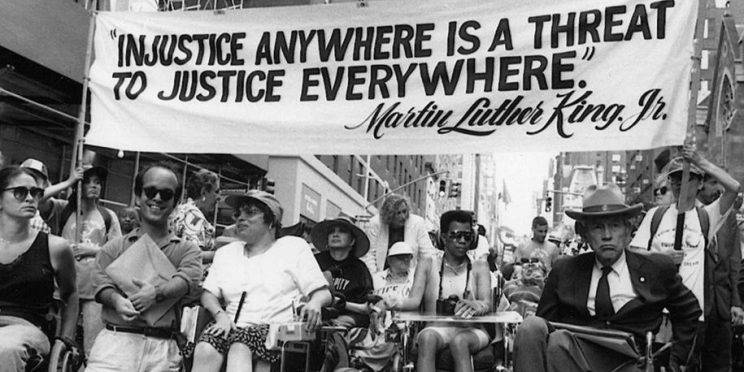 504 Sit-In History Resources
Online
Films and Videos
Books
Classroom Resources
Book Guides
Lesson Planning
Resources Featuring Judy
Projects
Books
Online
Films and Videos
Toys
Disability Resources
General
Do you have a disability-related question or issue, but you don't know where to start? Try the following resources which can help you find specific assistance.
Asserting Your Rights: Protection and Advocacy (P&A) Organizations
If you believe you are being discriminated against as a person with a disability or your vital needs are not being met, you may want to contact a Protection and Advocacy organization for legal assistance. These organizations can often provide advice or pro bono (free) legal counsel for issues like insurance/Medicaid appeals, discrimination lawsuits, and other situations. They are typically state-specific. See the links below to find the contact information for your P&A Agency.
Personal Assistance Services
If you require assistance with Activities of Daily Living (tasks like cleaning, bathing, dressing, and more) to live in your home, you may benefit from personal assistance services. See the resources below for how to acquire them.
Vocational Rehabilitation (VR)
VR Agencies exist within state governments to help people with disabilities pursue education and employment. VR should begin working with disabled individuals during high school and aid in their transition to college and beyond by providing funding for tuition, assistive technology, Personal Care Assistants (PCAs), and more. See below to find your VR Agency. 
Website Accessibility
Preparing for Higher Education
When preparing to transition to higher education, the following resources may be helpful.
ADA/504 Complaints in Higher Education 
If you're facing access issues at your college or university, you should first contact your college's office of disability services and attempt to resolve the issue with them. If that isn't possible, you may want to do more research using the resources below, or seek legal representation through a Protection & Advocacy Organization (see earlier section) for your state.
Disability History 
See below for a few disability history resources.
Disability Arts and Culture
See below for a short list of several organizations, projects, or artists working in the disability arts and culture space.
Disability Advocacy Organizations
Below is a list of disability advocacy organizations. This list is far from complete, but may be a good place to start for people looking to get involved in disability advocacy.  
TITLE?