Podcast: Play in new window | Download (Duration: 48:04 — 66.0MB)
Subscribe: Apple Podcasts | Spotify | RSS | More
This episode, Judy chats with Leroy Moore and Keith Jones, the co-founders of Krip Hop Nation. Enjoy their discussion with Judy about the work they're doing, together and individually, as artists and activists.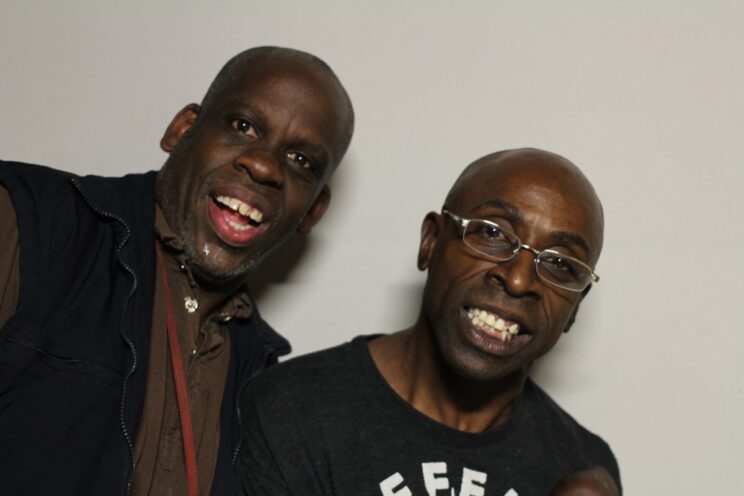 About Leroy Moore
2021 Emmy award winning Leroy F. Moore Jr. is the founder of Krip Hop Nation. Since the 1990s, Moore has been a key member of Poor Magazine, starting with the column "Illin-N-Chillin" and then as a founding member of the magazine's school, the Homefulness and Decolonize Academy. Moore is one of the founding members of National Black Disability Coalition and an activist around police brutality against people with disabilities. Leroy has started and helped start organizations including Disability Advocates of Minorities Organization, Sins Invalid, and Krip-Hop Nation.
His cultural work includes the film documentary Where Is Hope, Police Brutality Against People with Disabilities, spoken-word CDs, poetry books and the children's book Black Disabled Art History 101 published by Xochitl Justice Press. His graphic novel Krip-Hop Graphic Novel Issue 1: Brown Disabled Young Woman Superhero Brings Disability Justice to Hip- Hop was published in 2019 and 2020 under Poor Press.
Moore has traveled internationally networking with other disabled activists and artists. In fall of 2021, Leroy started his Ph.D. in Anthropology at UCLA. Moore has written, sang and collaborated to do music videos on Black disabled men. In July 2019 Leroy Moore under Krip-Hop Nation organized African Disabled Musicians San Francisco Bay Area Tour with disabled musicians from Uganda, Tanzania and The Democratic Republic of the Congo. In 2021 Leroy Moore published a book about Black disabled young men under SoulfulMediaWorks.
Leroy has won many awards for his advocacy from the San Francisco Mayor's Disability Council under Willie L. Brown to the Local Hero Award in 2002 from Public Television Station, KQED in San Francisco and in 2014, San Francisco Bayview Newspaper named Leroy, Champion of Disabled People in the Media on Black Media Appreciation Night.
About Keith Jones
Keith Jones is the President and CEO of SoulTouchin' Experiences. An organization aimed at bringing a perspective to the issues of access inclusion and empowerment, which affect him as well as others who are persons with a disability. Along with Mr. Leroy Moore the two men co-founded Krip Hop Nation an international collective of artist with disabilities. The tag line of Krip Hop Nation is, "Its more than music..."
Mr. Jones is also extremely active in multi-cultural, cross-disability education and outreach efforts. Mr. Jones works to not only educate the disability community about enhanced community living, but also the community at large. Mr. Jones holds a strong desire to get the disability community more involved in the issues that concern their own lives and provides outreach support in relationship to the arts and independent living skills.
Mr. Jones has been recognized for his emerging leadership by the state of Massachusetts and President's Commission for Employment for People with Disabilities. Over his years as and advocate Mr. Jones has been awarded New Leadership Development Award From The President's Committee on Employment of People with Disabilities. The Commonwealth Coalition's Progressive Leadership Award the 2006 Moro Fleming Consumer Involvement Award from the Massachusetts Rehabilitation Commission, with as well as, a recent graduate of the inaugural class of Initiative for Diversity in Civic Leadership. Also, in 2008 long shot 2008 U S Senatorial bid based on "Fulfilling America's Promise". Also, Mr. Jones was the Disability Law Center's 2011 Individual Leadership Award. While at the same time Mr. Jones continued his artistic endeavors.